BN On The Radio: Matse – Wazobia FM 95.1
by
Note: You're absolutely not prepared for most of the info about Matse you will come across in this piece.
After the BN On The Radio: Toolz (Linked here) went up last week, I jokingly told her (Toolz) that the profile with her would be my last – referring to the challenges that we both went through to make last week's post possible.
I lied.
This one, BN On The Radio: Matse, is my last.
I realize that I made the biggest mistake no music journalist should make, EVER.  In fact, It's Rule No. 1
Rule No. 1: Never pre-judge ANYONE you have to profile, EVER.
Wait! Where are my manners? Let's open her file first: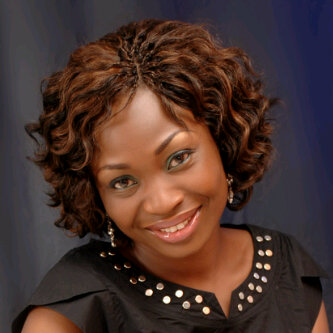 EOAP No. 2
On-Air Name: Matse
Real Name: Matse Uwatse
Radio Station: Wazobia 95.1 FM
Let's have a little background. You see, for a very long time – just before the Nigerian Radio Renaissance, the average Nigerian (Your driver, Bus-Drivers and Mama Bomboy down the road) had very little to connect with. At least until Radio in their tongue came along – Wazobia FM. For them, and a lot of us, radio became more personal.
Matse represents the Renaissance for Pidgin English on the radio. She speaks pidgin virtually ALL DAY, every day. Now here's my mistake – I armed myself (rightly I thought at the time) with what I thought were the appropriate tools. I brushed up on my pidgin, with my security guard. I wanted to be able to connect with my interviewee. I learnt new pidgin words like Skillashi [noun] – loosely translated to mean having talents/skills (acquired and innate); all thinking I'd be able to use them.
And then I got to the station and in my best Pidgin impression I was ready to flow with her on another level. In my head, it'd be my best interview yet. HA! Was I in for a surprise! I should have known when she met with me at the Gate House of the radio station and she had greeted me with her brightest smile.
We got to the production room and I was ready. Uber-ready in fact (Imagine me drawing my Pidgin sword here). And the pre-interview banter begun, She did not speak pidgin, people! I almost forgot to hit the record button at first. Not that you would expect her to be an old lady with two wrappers around her waist, but then. Heck it was not an interview, it was like meeting with a new friend or possibly even a pen pal.
The first surprise of course came when we explored her background. She said, "I'm a Linguist, I studied Modern European Languages, majorly French and then some German. Languages have always been my thing so being here at Wazobia is not much of a surprise." It's difficult to believe that with that much education she can slip easily to pidgin but she attributed it to her background, "I be Warri girl and na Pidgin them take bring me up". She sees herself as an introvert, "I am an introvert" as she laughed "I can see you're raising an eyebrow. But it's true, I'm a very private person." Introverted as she may be, her depth is profound. From the different talents that she has to .
The conversation shifted to music and it became more a bonding session as we reeled off bands and artistes that we enjoyed in common.  The roll call was a surprise to say the least given the kind of music she has to play on the radio and her job description. David Guetta, Bob Sinclair, Enya, Enigma, Cranberries, Imogen Heap and Deep Forest are just a few. She said, "That is my kind of music. It's not the everyday R&B people are used to. I love the kind of music that's different. Esoteric, if you will. "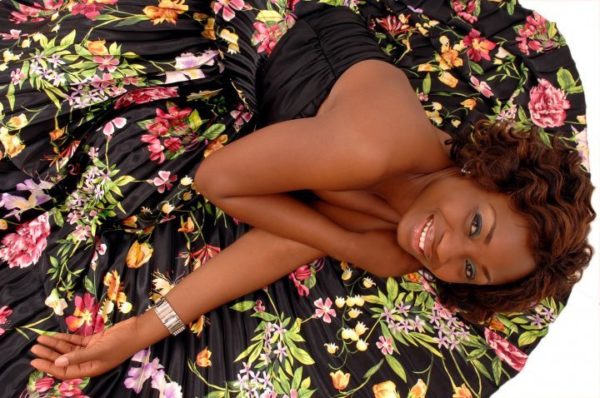 Before she made the move to radio, Matse was an Administrative Executive with the prestigious Bang & Olufsen. Yes, THE Bang & Olufsen. Why would she do that? She blamed it on the paper, "I got tired of all the paper. I am very creative and I love to think. I enjoy bringing my fantasies to life. And being an Admin Exec was not enough, I was just tired of the monotony." The decision was a surprise to every one, even to this writer, She quipped, "Everyone was like, Matse are you crazy? You left B&O? and I'm uh-hun? So?" and she continued "We all have what comes naturally to us, I am not a natural with office work. I am more a creative person. As a kid I used to paint and I still do. I just needed a place away from there to let down my hair and fly. So when the Wazobia opportunity came by, I just snapped it up"
Painting is not the end of it for her, she writes and she's also an interior decorator; talents which she is genuinely proud of. She proudly showed her work both as a writer (she runs a blog) and as a decorator. She went on to briefly give her own take on the importance and effect of colors. Her vast knowledge about everything from colors to history to esoteric music is impressive to say the least. And then it's easy to ask, is the Matse on the radio merely a personality? "No, it's not. We're one and the same. It's still me. Only just a part of me."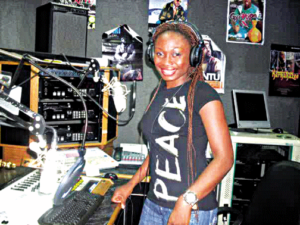 Her audition for Wazobia was a fond story to tell with the way her face lit up in the nostalgia of the moment. She said, " I went in there prepared. When I got in, I told them see here's what and what I have planned. These are the shows I will do when you give me the job. And then they told me to switch to pidgin and I said 'Na so we go come dey do am'. We talked and laughed. And when I was walking out of the door I knew I had the job."
In the two years since she got the job, the response has been overwhelming for her to say the least. She spoke humbly of eminent personas and having her work acknowledged by them. For her, she still finds it surprising that people from vastly different backgrounds take the time out to listen to her. And the awards, "CNN's African Voices gave the award for most outstanding radio presenter in West Africa, I got the Future Awards in Nigeria, Women in Media also here in Nigeria. It's been amazing. I've met people I would not ordinarily meet, Governors, Senators, First Ladies name it" She related the story of meeting a particular lady, She said while laughing, "After I introduced myself, she said: 'You're Matse?! You! I will beat you! So you are this tiny?! I thought you were one matured old woman' So that's it. It's been fantastic."
On a parting note, from here on, for Matse it's one creative challenge after the other. She continues her Interior décor business as well as her painting and writing. She's currently working on a book that will be released mid next year. What's next after Wazobia? *Drum Roll* Wait for it… She said, "I usually don't say this but… Politics. I will not expatiate but yes. Politics"
Watch out, BN On The Radio again next week – oh wait, this is my last. Great.
Enjoy the rest of your week!