Bright Chimezie returns in surprise duet with Humblesmith, and Feature in J – Martins Album
by
Popular Highlife musician, Bright Chimezie made a surprise appearance on stage at the Star Music Trek concert in Owerri After performing his classic hit 'African Style' with a team of dancers jiving to the Zigima dance routine, he then worked with Humblesmith to deliver an unbelievable performance at the show.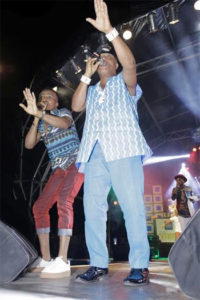 Owerri fans went wild for several minutes, singing along and screaming for more. Chimezie was himself a star of The Trek in the 90s, and it's the first time he's mounting the stage in many years. It is not certain if both acts have decided to work on a joint track, although Humblesmith, who's a big fan, already has a song dedicated to Bright Chimezie. 'It was awesome to perform alongside the veteran', he said after their set. 'It has always been an inspiration to me and others in my generation'
Why I chose Bright Chimezie – J. Martins
J. Martins need no introduction. The young man whose magical fingers have created a revolution in the music industry, has come a long way from being a gospel music producer to one of the most sought after in the country. Ask the likes of Timaya, P-Square, Bradect, Patti Obasi and more, they will tell a tale about the creative talents of the Ohafia, Abia State-born musician. Today, he is the studio cooking a brand song he claimed would rock the music industry. And he is not alone in the business. He is collaborating with the Duke of High life and creator of Ziggima sound, Bright Chimezie. He spoke to Showtime about the project and why he chose Bright Chimezie for the collaboration How was the concept of collaboration with Bright Chimezie born? For me, it's a great privilege and honour to try to step into the shoes that someone as legendary as Bright Chimezie is wearing. I'm looking at the shoes presently and 'fear never gree me put my leg inside.' I have known Bright Chimezie as far back as I can remember and that was in the early 1980's when I was born. I'm still looking at the shoes to know if it would size me. For a long time he's been doing this thing we the younger musicians are trying to do. And to me, all the songs he's recorded are classic. For me as a young man growing up in life and musically, as a young man, my parents adored them for what they do, who they are, the principles they left behind. In the studio as we recorded his voice, I told him that most of his colleagues that lived at the same time he lived didn't live well. And this explains why most of them are missing in action. It's either one bad life or something else has killed them all. I now said to myself, what do I do to return Bright Chimezie's music to the club circuit. In their time, recording was analogue and it was live recording. The mode of recording made it impossible for Djs to play their kind of music in night clubs, or in the modern day generation/gathering. So what I'm trying to do is to find a way to bring the music back into this younger generation. It is not as if the music is dead. No, but this is like a marriage between the old and the young and bringing them to the centre. So, that basically is the reason I am collaborating with Bright. Another major factor is that aside his musical talent, the knowledge that he comes from my home state, Abia. I see this as a father's blessing on an enterprising young man like me, that's my Bright Chimezie story. This whole thing is a dream comes true. In the studio, more than 90 per cent of today's musicians don't have the qualities of Bright Chimezie. To find a man at his age who is humble is very rare. Just watching him record in the studio, I learnt so much about him. I believe that I have not made the wrong choice by collaborating with him. The same way they sustained the music industry while we grow up, is the reason I am doing this. Now, what I am doing is to take it to the next level, where my children will still have a knowledge of the great Bright Chimezie. Why Bright Chimezie and not somebody else? He is one of the few living legends who is still very much relevant. He is strong and healthy. You may not believe this, he drove all the way from Umuahia to Lagos because according to him, he enjoys it. That shook me and I am yet to recover from hearing that. Every time I look at him, I see so many things people say are not impossible I see it possible in him. So what are we expecting? We are expecting a chart buster. And the unexpectable. What I mean by this is that, the song that I'm trying to remix is a successful song. For now, we are trying to bring that particular record into the clubs right now. So that it can accommodate the younger people like us. Is it just voice only that he'd be doing? What about his legendary guitar works? Well anything is possible.