Celebrity Interview: From TV to the Big Screen, Meet Nigeria's New Heartthrob Joseph Benjamin
by
Joseph Benjamin is unarguably one of the most attractive faces in Nollywood. He has charmed his way into the hearts of many with his good looks and great acting skills making him one of the most sought after actors of his time. He is one actor who has earned good points in both TV soaps and movies. His roles in TV soap – Edge Of Paradise and recently released movie – Tango With Me amongst others, has left unquestionable marks in the minds of viewers about his exceptional acting skills. He is also a voice over artiste, model and TV presenter. As co-host of Reality TV show, MTN Project Fame West Africa for three consecutive seasons, he has reached millions of fans across the continent with his well executed presentation of the show. Joseph speaks about his journey to stardom in this exclusive interview with Adeola Adeyemo.
Joseph is easy to chat with and he delves into aspects of his career, life, and aspirations easily. With a friendly disposition and good sense of humour, it is easy to feel comfortable around him as he responds to questions in a relaxed manner.
His Entry into Nollywood
Born 35 years ago to a father from Kogi state and a mother from Anambra state, he attended schools across the country. "I grew up under my step father who was a foreigner, so as an expatriate we had to move around a lot. I grew up in Nigeria but almost everywhere in Nigeria. Most of my Primary education was in Benue state as well as Secondary. Then I came to Lagos where I completed my Secondary school and as well furthered on to Tertiary which I majored in Computers, IT. I have a Diploma from University of Nigeria, Nsukka Distant Learning Program. I was neck deep into computers and IT for a while, doing a couple of professional exams here and there but presently, I am studying Philosophy at University of Ibadan, part-time."
He started off acting as a child, aged 12, in the popular children's program –Tales By Moonlight on NTA. "My first acting experience was on Tales by moonlight. I was part of the people that were acting out the stories." Then he left the acting scene for many years and later in 1991, was cast in his first movie. "I had my first movie role in 1991, a movie called Crossroads. It had the likes of Ramsey Noah, Pat Attah, Victoria Iyamah, Sandra Achums, Ejike Asiegbu and Gbenga Richards." He also played a role in popular TV Soap, Edge of Paradise where he was a bachelor who lived next to a family whose daughter had the hots for him. "What was memorable about that role was that I had to be on dreadlocks. It was quite an amazing experience for me."
But as charming as he is, Joseph is one of those actors you don't get to see enough of on your TV screen. "I've not been a poster face, no," he says. "I have always been there, but basically I was marking my time, going through my preparation process." For him, he selects his movie roles carefully and wouldn't play a role that does not meet certain criteria. "I'm discreet and very professional," he says. "It's not about quantity for me, its quality that matters. This is a decision that I took long before I came into the industry. I said, if I'm coming into the industry, what am I coming to do differently?  I won't just follow suit and do every and anything. So first off, I go through the story. I relate the story to our every day environment and say what message is this script bringing, what message is this story gonna bring? When the viewers watch, what message are they gonna pull out from this? In what light do they see me, because you see, the power of the media is very very strong. People are very quick to relate to whatever character they see you as. I look out for key things that will put me in a good light and stuff that would be challenging to me as a professional. Most important, I also look at mileage. Even if you don't get very good financial compensation from a job in a particular sense, but if the job will give you mileage then you go for it."
While he says he has acted in some yet to be released movies, his recent movie Tango With Me, where he played a lead role starring alongside Genevieve Nnajihas gotten some interesting reviews and is still making waves in cinemas across the country. He speaks about his experience, acting as Uzo, his character. "Tango With Me was amazing," he says. "It had a minimal cast. It was more dialogue driven; we had to emote a lot. I had to shut myself in a place so I could actually take on that character very well. Uzo was some guy who was emotionally bruised but his manly ego did not allow him to submit to that fact that he was emotionally bruised so he was actually finding and seeking solace in a lot of things and trying to validate his manhood in a sense which was questionable. I got to work with a foreign crew. It was my first time doing a film with a foreign crew. We shot it in Lagos but the entire crew was from Hollywood."
And about playing the role alongside Genevieve, he had this to say. "It was great working with her. She is quite graceful. We were able to strike a good balance. She is professional, she is thorough. We were able to feed each other very well. She is someone I've always admired. I've always admired her talent, her level of professionalism. It was something that was worth it."
Names like Rita Dominic, Stella Damasus, Mercy Johnson, Liz Benson, Ini Edo, Ramsey Nouah, Desmond Elliot and Pete Edochie come at the top of his list of people whose acting talent he appreciates.
Other Talents and Interests
Aside from acting, Joseph is a model(photography), voice over artiste and TV presenter. He has done several TV and radio commercials for big brands such as Stanbic IBTC bank, CocaCola, Maltina, MTN, Guiness, Samsung, Pepsi, Nokia, Airtel, Etisalat and Glo. But his role as a presenter on popular Reality TV Show, MTN Project Fame West Africa alongside Adora Oleh is what has brought him into the limelight. Having presented three seasons of the show, Joseph says it has been a "wonderful experience."
"Year after year, I get to see an amazing array of talents and it just keeps getting better with every season. Its been wonderful. I've had the opportunity to mingle with these raw talents, these guys gotten from their various zones and bring them together to live for ten weeks. I get to see fresh talents blossom."
For him, his role as a TV presenter, actor, model, voice over artiste is intertwined and he finds himself excelling at them all because he enjoys what he does. "Everything is intertwined, show business is a very broad word. The showbiz industry is a very large industry so wherever you find yourself, there is always a correlation btw one and the other, so for me, I enjoy presenting, I enjoy acting as well. You just have to make time for the other. You can't sacrifice one for the other. That is where being professional comes into play because that is where you have to work by schedules. I definitely can't take presenting jobs if I know it will clash with a film job at hand. I've been able to balance both so I don't have to get into anybody's bad books. I've had my own experiences from collecting a whole lot and not being able to manage it so I basically have to be very principled."
He speaks about the qualities one must possess to be a good TV presenter. "You just have to be grounded," he says. "I didn't go to any finishing school because a lot of people ask me that did you go to any finishing school because of my grammar, diction…. Everything you guys see and hear has come through personal training. A lot of platforms, foundations, schools have been set up to train people so if you can go to get trained, fine. Have a honest opinion from somebody. People who don't want to break you won't tell you the truth. Have a honest critic who would really criticize whatever you do to perfect you. Have confidence in yourself. Anything is achievable as long as you have God."
Keeping His Head Up
Despite his achievements and status as a handsome celebrity, Joseph is someone who has evaded bad press for a long time. When asked if he was dating anyone presently, his simple response was, "It's private. Professionally I will just tell people I am not available. I am not saying anything." He says he has been able to keep his personal life away from the media by keeping a low profile. "I don't draw any attention to myself. I usually stay below the radar, I try to live a very calm and low key life, that is why you don't see me everywhere. It's just my lifestyle."
The attention he gets from female fans, he adds, is something that cannot be avoided, but something he tries to manage well. "In all fairness, every good looking guy who is in entertainment always has attention from the female fans but how you manage your life is what matters. It's something you can't shy away from, it's difficult. I'm just a very simple and easy going guy. I follow through my life without any air of arrogance in any sense. I relate with people very well. I don't allow any form of achievement get to me so that way people don't withdraw and feel that there is this arrogance and pride around this person."
But he is not without flaws. Joseph says he likes to eat and cannot engage in a decent conversation after eating dinner at home. "I love food. I like to eat, when I finish eating I pass out, I sleep off so don't even engage me in any conversation after dinner," he says.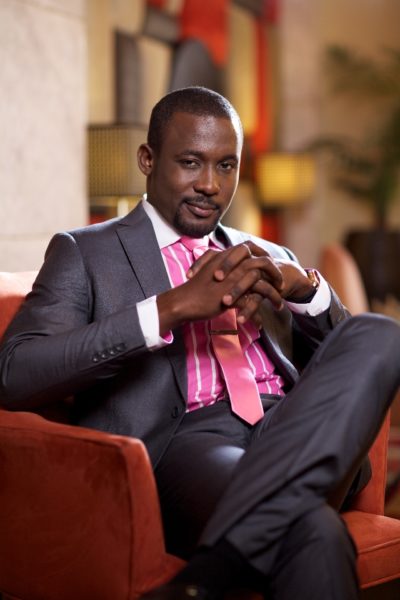 Aspirations, Style and Advice
Another thing about Joseph that is still unknown to many people is his love for music and interest in singing professionally. He hasn't recorded any single yet but according to him, "a whole lot is in the works." He says he would be recording songs that are a mix of soul and R&B, but will be gospel oriented.
"The one thing I love doing the most is music. People don't know that because they are like, we've not seen or heard anything about you. I've been singing in Church for as long as I can remember. In my present Church, Revival Assembly, I've been in the choir since 1998."
Joseph says he has no favourite designers, but wears anything "as long as it is good."  Referring to the T-shirt he was wearing which was customized by a young designer with a small strip of aso-oke material, Joseph says he is not stuck on to any particular label. "I'm not someone who is designer crazy, I'm not really crazy about labels. I shop everywhere. Once I see what I like, I buy."
Foremost in his hopes for the future is to be a positive role model and to leave a good impression on everyone he comes in contact with. "I want to be a source of inspiration to my generation, to be able to affect my generation positively and raise up a lot of people who can even do better than what I am doing," he says. He also mentioned plans of starting his own TV talk show in the nearest future.
For someone who has climbed up his career ladder with well paced strides, Joseph says it wasn't always possible to please everyone. "You can't expect everyone to like you; neither can you expect to please everybody." But he adds that it is not impossible to succeed if one puts in his or her very best and has a positive attitude. "Just be the best that you can be, the best at whatever you find yourself doing. Wherever you are, you can make the best out of it. Be positive, be hopeful, don't feel disadvantaged in any way. Always be positive once you have God with you and remember you might never get a second chance to make a first impression so always be prepared."