Effortless Beauty! Agbani Darego Covers the November 2014 Issue of Style Mania Magazine
by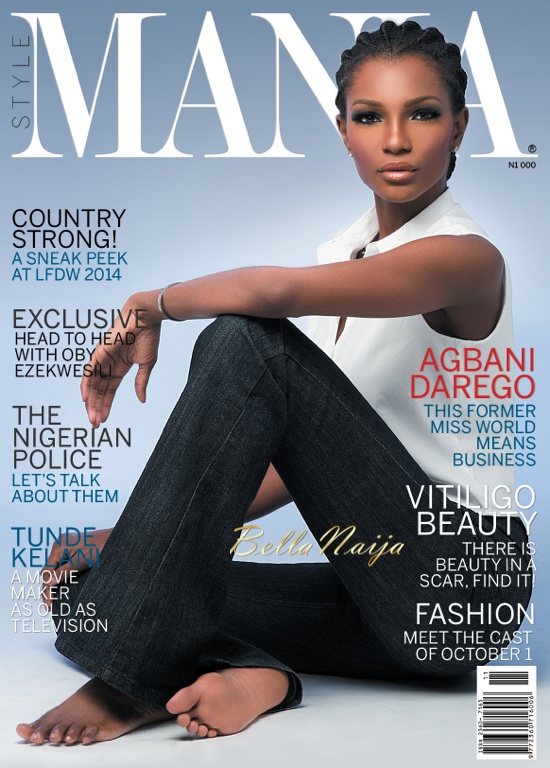 Agbani is back on the cover of Style Mania Magazine!
She needs no introduction.
Former Miss World and fashion entrepreneur Agbani Darego graces the November Edition wearing a simple white shirt and blue jeans but still looking effortlessly beautiful.
She talks to the magazine about her retail brand AD by Agbani Darego and the nearest future.
The November edition also celebrates veterans of note- Tunde Kelani, ace filmmaker and Don Barber, veteran photographer.
Fashion takes a new turn in this edition with some of the cast of the most talked about movie of 2014 – October 1 – posing for an editorial. There is also another shoot celebrating different countries that have been impactful in the progress of our nation with abstract flag representations.
Credits
Cover
Photographer: Kelechi Amadi-Obi
Fashion Editor: Godson Ukaegbu
Make-up: Bimpe Onakoya
Fashion
October 1
Photographer: Kelechi Amadi-Obi
Stylist: Godson Ukaegbu
Make-up: Bayo Haastrup
Models: Kunle Afolayan, Kehinde Bankole & Demola Adedoyin.
Flags
Photographer: Kelechi Amadi-Obi
Stylist: Godson Ukaegbu
Make-up: Bayo Haastrup
Hair: Zubby Eneoma
Model: Omowunmi @ Isis Models
Beauty
Photographer: Kelechi Amadi-Obi
Stylist: Godson Ukaegbu
Make-up: Bimpe Onakoya
Hair: Zubby Eneoma
Model: Elma Godwin