I won't mind becoming a Pastor – Gordons
by
'Moving the ministry to the permanent site' is a joke known by all and sundry. It implies a shift, an improvement, a change of level. It is a phrase that explains Gordons' 13 years journey from grass to grace, from being relatively unknown to being an ace-comedian that cracks  jokes to Heads of States. At the peak of his career at the Vanguard Personality of the Year Awards,which held last month, Weekend Groove caught up with this renowned comedian. In this interview, Gordons speaks on comedy, music and  the woman in his life.
It seems like all your jokes have a Christian background?
It is not like all my jokes have a Christian background, but I always try to keep them clean. When you bring religion into it, it checks you. It's not just because I'm a Christian, but I believe that any opportunity given to me to speak should be an opportunity to bless others. By cracking Christian jokes, people already know that I am a Christian, since I am aware of that, when I want to misfire, it acts as a deterrent to me.
Getting inspiration on moving the ministry to the permanent site?
It has been a common saying in churches, For example when a church wants to move from the hotel or tent where they are staying to their own property. I like that phrase a lot because it signals progress, a movement from one stage of life to the other. It is prophetically moving from where you are to where you ought to be.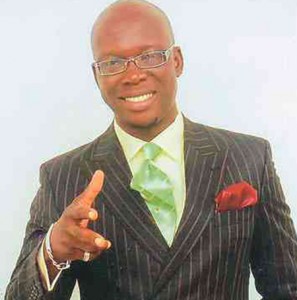 Are you thinking about going into the ministry?
I cannot say for now. Anything can happen. If God gives me a call, I won't reject it, because rejecting the call of God is to kill yourself. So, if God tells me now that he wants me to be a pastor, I cannot reject it. If I reject the call of God, where will I run to?
Many people first knew you as a musician, have you abandoned music?
I still do music. I actually have something I'm  working on in the studio now. Music will always be a part of me. Even now, I can't pick what I love more between music and comedy; I have passion for both. It's just that God in his infinite mercy has a way of opening doors for people in places that he deems fit. And I have had a lot of open doors in comedy.
When you have open doors like that, you get to follow that path for a while and that is what I am doing now. One thing about comedy is that I can say what I want to say, and reach as many people as possible. But I do not think music is like that. when I do music, it is gospel or natural songs.
What is your take on the comedy industry?
We are still growing. We are not where we should be, we do not have a governing body yet, and I think that is very essential. The industry is becoming more lucrative and challenging. The money is good, but there is still a lot of room for improvement.
When did you have your breakthrough?
My big break came in 2005, even though I started entertainment in 1992. This interview cannot contain all the struggles I went through during that time. But what I will say is that it was not funny at all. When I was going through all my struggles, it never occurred to me that I would one day stand before the crème de la crème of society.
It was in 2005, I came into Lagos. I came in to do an album, and when I finished the album, it attracted a lot of attention. A lot of people liked my songs. It was around that time that Pastor Paul Adefarasin called me to anchor the experience programme. I anchored the experience which had an audience of about 500,000 people. It was an explosion. I was also asked to do comedy which I did, that was how God lifted me.
Tell us about your failures?
It is impossible to see a man who is successful that has never failed before. Sometimes, you crack a joke and you expect people to laugh, but it doesn't turn out that way. For example I've cracked a joke about Dana airways before, and the management was very angry with me.
I've also cracked a joke about our electricity problem, and I did not know that the Minister of Mines and Power was in that meeting. He collected the microphone from my hand. It was an open embarrassment. I once cracked a joke in Port Harcourt and I was booed out of stage. When you encounter that kind of thing, you go back home and get back to work. Such things don't really happen as much as they used to because I'm a bit older in the game now. When you mature in some things, you know what to avoid.
What about Gordon's comedy clinic?
I still do Gordon's comedy clinic. I did one in Asaba recently. From Asaba, we'll move on to Port harcourt, Uyo and Calabar. It is about entertaining the unentertained. It seems like everybody is looking up to Lagos for entertainment, but it is the same people that are entertaining people everywhere.
We don't hear much about your family life
I have been married for eleven years and I have four children. I got married on the 23rd of March, 2002. My family is not in the public eye because I have to separate them from my job. Whenever you're doing something good, women will always follow you. But your ability to say "This thing seems good, but something bad might come out of it." Saying no to women has become an everyday thing. For people like us, we prepared before we came. We prepared against what we were going to face, we were not surprised, because we had handled them spiritually, so to handle such things physically was not a problem at all.
Where do you get your inspiration?
I read a lot. I would hardly go through any airport without buying a book. I read to broaden my horizons. I watch other comedians too, especially foreign ones such as Steve Harvey and Chris Rock. I also pray because God is the giver of inspiration.
What are things people don't know about you?
A lot of people don't know that I'm married and some people don't believe that I have travelled abroad.
– See more at: https://www.vanguardngr.com/2013/05/i-wont-mind-becoming-a-pastor-gordons/#sthash.wtO5YVjA.dpuf