Interview with Mo'Cheddah – Queen of the Pack
by
X2 recently interviewed Nigeria's franchise celebrity, Mo'Cheddah. She talks school, music and here phenomenal 2010 industry wins…Enjoy!
In 2010, the tables turned for Modupe Oreoluwa, popularly known as Mo'Cheddah, the sole female act of the KnightHouse crew. MTV Base named her as the pioneering act for its 'Brand New' program; she also went ahead to cart away several awards including The Channel O Music awards as well as the MTV Africa Music Awards. The 21 year-old undergraduate of University of Lagos, who released her debut album,'Franchise Celebrity' late last year, speaks to X2 within the premises of her school.
Some memorables…
What is it like mixing schooling with making music?

It's hectic,absolutely. I have my moments when I get very stressed and tired that I just want to lock myself up and shut down, but God has been my strength. I have very amazingfriends and the media has been co-operating as well. They know I'm in school and are not reluctant to have interviews in school or somewhere close by. Everybody have been helpful and supportive.
In 2010, the awards came pouring in, what does it feel like to score multiple awards with your debut album?
It was unexpected,because really I made the music for people to enjoy not for the awards. I was very happy when the awards came in and to top it up, the international ones which made people to know my stuff and that it is not based on sentiments at all.Some of these awards came from people I've never seen before in my life so basically it's a result of hard work. When I got the Channel O nomination I couldn't believe it because I didn't even know they know me that well in South-Africa.The awards are calls to more hard work, I have to defend the titles by working harder to satisfy my fans.
How easy is it coping with shout outs from fans and people who recognise you on campus?
I'm getting used to it now, not like I enjoy it but I'm not scared or surprised anymore. Now I know this is who I am and if I go to certain places, they'll probably recognise me. Although once in a while you see people going crazy but majorly what they do is just stare when I walk by.
What inspires you as an artiste?
Life in general; I take every little thing serious. Like I watch a movie and I'm pondering on what I just finished watching, I meet a child today with a beautiful smile and I'll see the character traits of the child. I take every friendship and relationship serious. And I also sing about my personal experiences.
Read the full interview on X2 here
Is Mo'Cheddah trying to Tell us Something?
Not too long ago, BellaNaijarians discussed how much social media exposure you should give your relationship especially before "the ring" and marriage.
Mo'Cheddah is not afraid to show love for the man she calls "papi", her boyfriend – Bukunyi Olateru-Olagbegi also known as BK.
Well, it seems as though there may be something she is trying to tell us judging by recent Instagram posts where she referred to herself as "wife"
Check on it.
I make him laff!!!
…yh I'm that funny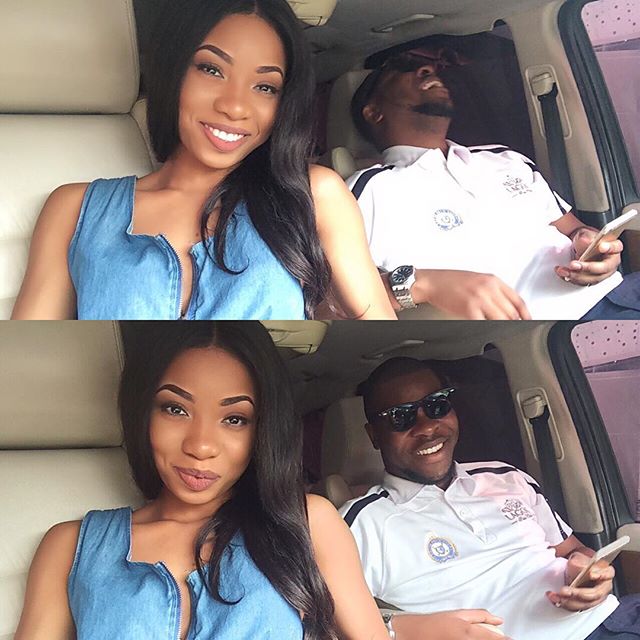 Photo Credit: Instagram – @mocheddah