Interview with Van Vicker, he Talks About his Family, His latest Role…
by
A leading African movies star says Hollywood finds favor in African movies industries. Mr. Van Vicker, a Ghanaian movies star, who also acts in Nigeria's Nollywood made the disclosure during an exclusive interview over the weekend. Mr. Vicker also disclosed that a number of African movies stars are coming to Hollywood to perform based on invitation from Hollywood home movies. "There is a chance to win an award," Mr. Vicker said. The coming of African movies stars to Hollywood is the beginning of a working cooperation between the two industries, Mr. Vicker said. Click the link to read the transcript of the interview.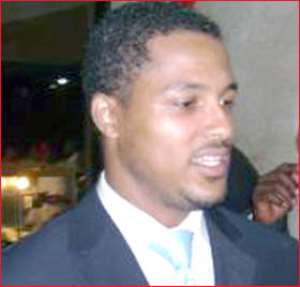 This is Thomas Kai Toteh
U.S. based Liberian freelance journalist and author.
It is my pleasure, and I am honored to have you, one of the leading African Movies stars.
Toteh: Welcome sir!
Vicker: Thank you!
Toteh: Before this interview, you talked about a project, a Hollywood/Nollywood project. You said in this project, "We are assigned a position of standing a chance to winning an award." What do you mean? What kind of award and from what movies industry?
Vicker: what I mean is this, the Hollywood industry has seen the potential in the Africa movies entertainment and so, they want to appreciate us, motivate us and want to follow our step gradually as they have seen the moral values bestowed on the children and youth of the society.
Toteh: Is your participation in Nollywood movies intended to expose Nollywood stars and at the same time create working cooperation between the two industries?
Vicker: Yes, it is part of my aim in the movie acting career.
Toteh: Mr. Vicker, have you acted in Hollywood movies before?
Vicker: I have not acted in any Hollywood movies before. But I will feature in this present one.
Toteh: How many of you from Nollywood are expected to act in Hollywood movies? And what kind of Hollywood movies you will be acting?
Vicker: So far, we have not come up with the number of Nollywood actors who will partake in the movie. The types of movies we are going to act are the usual home movies we act in the Nollywood industry. Just that, we will be featuring with some great Hollywood actors.
Toteh: What else do the two industries and individual stars hope to gain from this project?
Vicker: Lots of benefits are to be gained from the project by individuals, the two movies industries, well wishers, and the society and so on.
Toteh: Now let's talk about something most of your fans don't know about you yet. How did you get into the movies business?
Vicker: It all started way back in 1997 when I went for an audition for the post of a presenter in a newly opened T.V. station, TV3 Network. She saw the advertisement in the newspaper and told me about it. I did the first audition, the second, the third, and I was hired. That was the genesis. I did presentation, production work, and then I resigned and moved on to a radio station, Groove FM. I was hired to do the drive time program. That TV station was changed to a local station and because I don't speak the local language, I had to move on. And then I went to another TV station, Metropolitan Television, MTV for short where, I started producing and presenting programs. As a staff, I did uncountable programs, from live to recorded, and what have you. I presented and produced a lot that was where I rose to be the assistant head of entertainment. And while I was still there, I went to another radio station, Vibe 91.9 FM, and then I was presenting a night program. So I was doing the radio work and the TV as well. Then I had it on Television series, I was stared in it. I started over in Sun City and then it moved on to … and that was when I thought about doing movie. The first one I did was Divine Love; I did that with Majid and Jackie around 2004. I actually stopped radio before I started the film because the series was not giving me time. I later resigned from TV and started doing my own advertising agency. I worked with one of the biggest advertising agency and then I started my own advertising agency. I opened my own agency, Sky Orange; I did it for a while. Then, the movie thing started getting bigger and bigger and I had to let my pattern run Sky Orange while I did other stuff.
Toteh: Do you like acting, the money and fame or all of the above?
Vicker: Laughing! Well, every individual has responsibilities to meet up with; we do one or two things to make living. So, the money perspective is not out of the question but the major aim in this project is to take the Nollywood industry to another level by day to day.
Toteh: A lot of people say African movies stars can not do better in Hollywood
Vicker: I think everything we do has to do with determination.
Toteh: It is widely believed that you are a Ghanaian actor rather than a Nigerian actor.
Vicker: The truth is I act both Nigeria and Ghana movies.
Toteh: Do you have a Liberian background as speculated by your fans?
Vicker: yes, I am partly from Liberia
Toteh: How is the acting business so far?
Vicker: With the grace of God it has been great.
Toteh: Of all your movies, which one do you think you were at your best?
Vicker: I tried to put in my best in every single movie I act. So, I will say all.
Toteh: A lot of your fans think "The President's Daughter" is your best.
Vicker: I think is a thought, is okay.
Toteh: Why in some of the movies, especially the female characters carry American actresses' names? A lot of fans don't like that.
Vicker: actually, I don't really have any thing to say about that, since I am not the producer of such movies.
Toteh: Do you foresee an improved movie industry in Africa soon?
Vicker: yes of course, African movies industries are growing very faster and will continue to grow till the sky is its limit.
Toteh: Do you foresee a merger of African movies industries to make a great industry?
Vicker: Yes, it will make a great industry, and that is why I am always present whenever my attention is needed by any of the industries.
Toteh: Would you like to say anything personally for the benefit of the reading public and your fans?
Vicker: I don't have much to say. Rather, I am asking for the effort of individual companies to contribute in one way or the other to this project so that we will utilize beautifully, this great opportunity.
Toteh: Do you have timeframe in mind for retirement?
Vicker: As for now, I have not come up with any decision yet because I looked at it that more is expected from me.
Toteh: If Hollywood asked you to stay would you stay?
Vicker: Laughing! I have never come to think of that.
Toteh: Is Joseph a part of your full name?
Vicker: yes
Toteh: What do you like and dislike about acting? Is your family comfortable with your career?
Vicker: I like everything about acting but what I dislike about it is criticism. My family has been wonderful and very supportive with my career.
Toteh: Almost all of Nollywood movies are on YouTube free. What is it like that? A Lot of reproduced (bootleg) movies are in African movies stores in the U.S.
Vicker: I generally don't know why is like that.
Toteh: What message do you have for all Africans at home and around the world relative to the promotion of Nollywood and all African movies industries? Are there other things I did not touch, and you want to add?
Vicker: You have said it all. I really want to say thank you.
Toteh: Once again, thanks for giving me the opportunity to interview you. Thanks and good luck!