OLUCHI IN -PICTURES, INTERVIEWS AND LOTS MORE
by
I know every single fashion/entertainment blog is going to put up these pics, I hate being redundant so usually I wouldnt put them up but I really loved the pics and I'm very proud of Oluchi so I decided to put them up anyway.
Here is the full set of photos from Oluchi's 3rd Sports Illustrated Swimsuit Issue feature and thats a huge deal in the modelling industry.
Check them out along with a brief Q & A and a copy of her playlist. I luv that she has 2Face on there.
FAB.
***I put up the pics as thumbnails on purpose, there is no nudity but they are suggestive so you might want to avoid clicking them at work***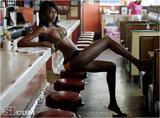 Pop Culture Q&A
First album you bought?

I honestly do not remember the first album I bought, I think it was Sade.
First concert you attended?

The first concert I attended was Fela Kuti concert in my home country of Nigeria.
Rock star that you know?

None.
Rock star you want to know?

Bono.
Gnarls Barkley is…

A musician.
Britney Spears is…

An All-American pop star and a mother.
K-Fed is…
Would that be Britney's ex?
When I sing karaoke…
I smile, laugh and make fun of myself because I sound really bad even when I know the song but I love it anyway.
Song that reminds you of your first kiss?

Wyclef Jean's Don't Want to Lose Your Love.
Song that makes you cry?

Wyclef Jean's Don't Want to Lose Your Love. That song elicits a range of emotions for me.
What you wanted to be at age 10?

I wanted to be problem solver for my family.
Athlete that you want to know?

Soccer player Jay Jay Okocha, who plays for Qatar SC.
I'll spend Valentine's Day…
At the SI Swimsuit party but if I wasn't I would spend Valentine's Day waking up to fifty long red roses from my man, exchanging texts and sharing loving memorable thoughts all through the day, dinner at night and all night long.
Bella Says: Sounds hectic LMAO!
What attracts you to a man?

The fact that they are opposite sex.
Bella says: umm ok…!
AGE: 24. Bella Says: This is clearly a mistake from SI cause her DOB is August 1, 1980
BORN: Lagos, Nigeria
DISCOVERED: Oluchi was discovered by a modeling scout at the age of 17 while selling bread on the streets of Lagos. Shortly thereafter she moved to New York City to begin her modeling career.
SI RÉSUMÉ: This is Oluchi's third appearance (2005, 2006, 2007) in the Swimsuit Issue.
DID YOU KNOW? At 17 Oluchi won the inaugural Face of Africa contest sponsored by a South African TV network. The prize: a three-year contract with Elite. In Igbo, a language spoken in Oluchi's native Nigeria, her first name means "work of God." Her father was a civil servant, and her mother was a nurse.
Playlist
Can't Stop Loving You – Phil Collins
White Ladder – David Gray
Babylon – David Gray
Irreplaceable – Beyonce
Locked up – Akon
Wanna Love You – Akon
Hello – Lionel Richie
African Queen – 2Face Idibia
One Love – 2Face Idibia
Don't Wanna Lose Your Love Tonight – Wyclef Jean
In other news, Luca Luca Guy Drops $3.345 M. in Gramercy
Forty-two-year-old Luca Orlandi, the celebrity-friendly founder of Luca Luca, will have a nice new nest to feather now that his fall line has finished exhibiting at Fashion Week.
According to city records, the designer has bought a duplex penthouse co-op at the Gramercy House at 22nd Street and Second Avenue for $3.345 million.
In August 2005, Mr. Orlandi married the Nigerian-born supermodel Oluchi Onweagba; recently, his firm moved its offices from above the store to an office building closer to Bryant Park.