Omotola Jalade-Ekeinde & Matthew Ekeinde Tell All! Their Revealing Punch Interview
by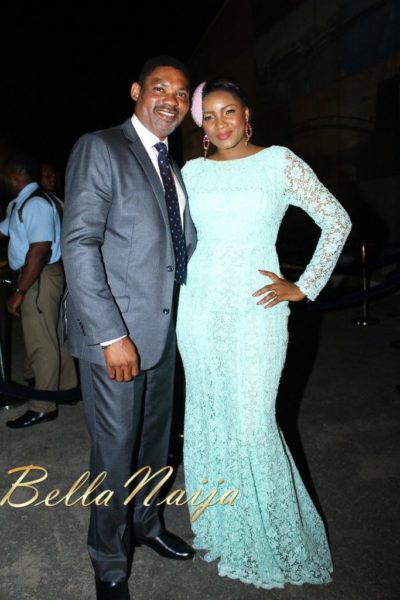 When you think of Nollywood royalty, Omotola Jalade-Ekeinde's name always pops up, more so when you think of successful Nollywood couples.
The Nollywood superstar has been married to her Honey Boy (his nickname)Captain Matthew Ekeinde for 18 years, and have 4 beautiful children; 2 boys and 2 girls.
Omosexy and her hubby recently invited a rep at Punch to her home in Lagos. She gave the scoop on love, gender equality and the secret to her long lasting love.
In January, Beyoncé sparked public debate on gender equality being a myth. She said "It isn't a reality yet". To get the scoop, click here
And for Omotola, she doesn't believe a man and a woman can be equal in any way.
Check it out!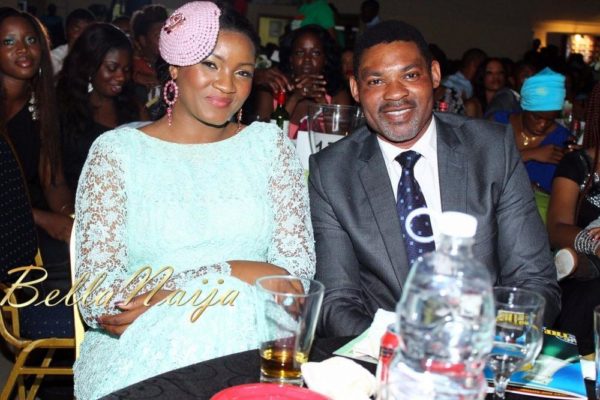 Omotola
On how a woman can have a successful marriage: "I don't believe in gender equality. I do not believe that God made man and woman to be equal in any way. I believe that in every organised institution, there is always a head and an assistant. It doesn't mean that one should take the other for granted, or disrespect the other. I believe the husband is the head of the home and the wife is an assistant. My husband is a pilot, I have flown with him several times and I understood that here is a captain and a co-pilot. They are both responsible for the passengers' lives. But when there is a final decision to make, it is up to the captain to make it. He is more experienced and the one with the responsibility. But any mature captain will not ignore his co-pilot because the co-pilot is not a cabin attendant. He is there for a reason. It just depends on how you understand and play your roles. I believe women should understand this. When a woman starts a struggle for power tussle with him, it tends to cause friction in the home. The woman should give the man the respect as the head of the home and also prove herself as a worthy co-pilot. He needs to see you as a reliable co-pilot. Sometimes, he may not be the one running the house day-to-day, you are the one to take decisions but you have to do it in such a manner that he is comfortable enough to see you as someone he can rely on. When you have a proud and egocentric husband, hand him over to God. If you feel like your life is being threatened, or that of your children, get yourself out of that situation. You owe your children that. Try separation for a while, but before that, you must have tried other things. I do not believe that people should throw in the towel in their marriage at every flimsy excuse. You must have been a diligent wife and tried prayers and intervention. If all those fail, then you can remove yourself from that situation. Also, couples should be friends and communicate. What we call love sometimes fizzles out. True love comes from friendship. When you don't feel those initial sparks, friendship is what keeps you together, until when the spark comes again."
On changing anything about him: "I don't know if it is even possible to change it. I am not someone who tries to change anyone. I just try to manage situations and people. I live with them in such a way that it does not hurt me. Maybe if he can talk more. Generally, I wish he could be more communicative. But they say women are talkative."
On advice for couples for a successful marriage: "If they want to be successfully married, they have to take time to be so close to each other that every other thing does not matter. There should never be third parties in your marriage. It is like a wall. The minute it's cracked and lizards start coming in, it will be hard to find the lizards and throw them out. And they will start creeping into your family. Try and always sort out the issues between you. Moreover, pay your tithe individually. It's a covering. This is our secret. When you don't pay your tithe, you have not committed yourself and your home will not be put together. It is your foundation. But when you pay your tithe, God helps you take away every devourer. When that is taken care of and you are God-fearing, as darts are coming from every angle, you are already fortified. If you trust each other, tell each other the truth even if one person errs."
On reasons for break-ups in celeb marriages: "It is really hard but you both have to feel extremely secure. You have to be extremely confident and trust each other. There are so many things to deal with, especially in this environment where some people just thrive in hurting other people. The weird part is that you cannot believe that people are capable of such wickedness. You are sane and cannot believe other people are insane. These are the things that cause break up in celebrity marriages. A lot of people are talking and saying nasty things that are not true. It is just as if there is a gang up to break you up once they know you are a celebrity or in a relationship. Most times, they are all lies! Celebrity lifestyle gossip is getting to a point where they are getting close to your kids and family. They try to put your relationship in jeopardy. Then, petty things that wouldn't cause any problems become issues. I hope there would be legislation that will protect families."
On bad press: "I don't think about it because I have a lifestyle that corrects everything. Talk is cheap and I tell them to come out with proof if they have any. But if they don't have anything, they should shut up for life. I am not interested in those kinds of talks. My husband knows me, I know myself and the people who are close to me know I can't do the things they write about. They know what I stand for and what I signify. My hands are clean and I don't have any hidden skeleton in any cupboard. I meet people that I want to meet but in everything I do, I make sure that I do not do what I cannot explain."
Matthew
On his wife: "She is a go-getter. She is very determined to succeed. As a wife, she is good. But sometimes, I wish she was a lot more around. She travels almost as much as I do. Sometimes, I wonder who the pilot is. As a mother, she does well; the kids are even more scared of her than they are of me. I keep thanking God because of my family because when I look around me, I see marriages that are still struggling."
On handling finance: "When we first started, we had one account. We had goals and things that we wanted to do. Whatever we earned had to be in one purse. Then, we sat at the end of the month and drew a budget. We did that for so many years and were successful until she started her own company and we decided she needed to have her own account. In most marriages, the man goes into the marriage with the mindset that he will be the sole provider even when the wife is working. That does not make any sense. He uses his money to pay bills while the woman will use hers to buy only make-up, clothes and shoes. If the couple is one, they should join resources together to move ahead. Money causes problems in a family when one person is being selfish. It doesn't matter who earns more or less. They should have a common goal. Save together and accomplish things together."