Queen Adaeze Yobo has a PHD in Shutting down Internet Trolls
by
I need lectures from Adaeze Yobo on how to spiritually, grammatically, medically and calmly put idiots out of their misery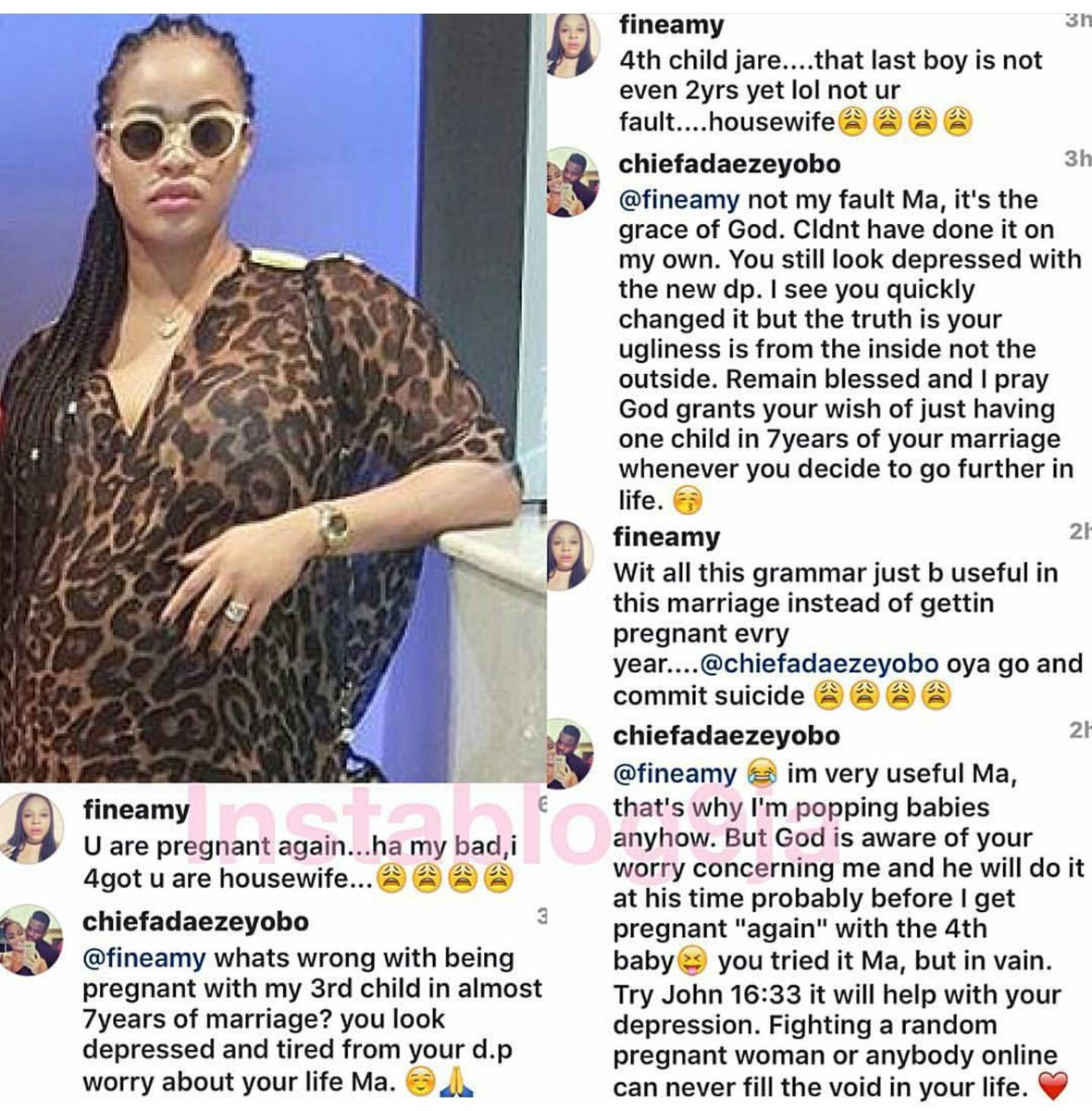 See another one Below
Yesterday, a woman with the Instagram handle @uyyii alleged that Super Eagles defender, Joseph Yobo was having extra marital affairs.
The woman bitterly engaged his wife, Adaeze in war of words – she blamed her for taking selfies on Instagram, while her husband remains unfaithful.
This shouldn't be news (because who should really care if a nameless, unidentified person claims a superstar footballer is sleeping with women other than his wife?) but if this said person engages in a fight with the footballer's wife on social media, then yes, it's news….

It all started when the former beauty queen who got married to Yobo in 2010, posted a selfie on Instagram with the caption "Even wen you re late, there is always time for a #selfie #agoodselfiecanchangeyourlifeforever #okbye #haveagooddaylovers".
A few minutes later, an Instagram user with the handle @Uyyii accused Adaeze of being ignorant of her husband's 'adulterous lifestyle'.
'She's here taking selfies while her husband is busy fucking up and down', @Uyyii (who opened the account today) rudely wrote.
Surprisingly, Adaeze fought back and it led to a war of words between them including Adaeze's fans.
Adaeze further gave a cheeky response 'Awww! Did he fuck you and abandon you?? You are not alone, join the line sweetie. Time heals all wounds. Remain blessed! I will ask him to give you a call. Whichever girl you are. #menarewicked #getoverit #itislife'.
The summary of it all is that Adaeze is not bothered that her hubby cheats on her! She has the "He can cheat all he wants as long as he doesn't bring the bitch home, I'm fine with it…life is too sweet to let one man break your heart" attitude……Oh by the way, she got a deluge of expensive Louboutins & Versace shoes as gifts from him – John Yobo – on Sunday afternoon plus they went on a romantic date last night….to see movie! (photos below)
Adaeze Yobo Shuts down Troll Who Called Her out for Being Joseph Yobo's 'Unambitious Wife'
This is exactly what you get when you trifle with the Chief Mrs.
Adaeze Yobo, who was crowned an Ogoni chief over the weekend alongside her husband, legendary footballer Joseph Yobo, is not here for pettiness and rightly set a troll who dared to call her out on social media straight.
The troll, obviously pained by an assumption that the former beauty queen does nothing more than "get fat" and "post pictures" on Instagram called her "unambitious" and a "lazy shadow" and of course ended the rant with the unsolicited advice to the mother of 2 to set up a business.

Adaeze Yobo who is not known to let things like this slide, chose instead to dismiss the trolls misplaced concern. She of course made sure to let the heckler know she better put some respect on her name stating "I prefer to be addressed as chief or Lolo not madam."
Ouch!
What do you think?