The International Nigerian Actor and 'Man with a Beautiful Voice' Hakeem Kae-Kazim speaks Exclusively to BellaNaija!
by
Not many Nigerian actors are as international as the effervescent Hakeem Kae-Kazim. Having been classically trained in the UK, the Nigerian-born thespian found his early beginnings on stage in the National Youth Theatre and later on, professionally as part of the Royal Shakespeare Company.
In a career that has spanned Nigeria, the UK, South Africa and the United states, Hakeem Kae-Kazim has been very fervent in the movie industry since the late eighties and has since played some very iconic roles. Having featured in box office hits – Hotel Rwanda, Pirates of the Caribbean: At World's End, Last Flight To Abuja X-Men Origins: Wolverine – as well as hit TV series – Lost, 24, NCIS: Los Angeles, Hakeem has accrued a list of very impressive credits over the years. He is now currently on the cast for "Transformers"-director, Michael Bay's new Pirate-themed TV series – Black Sails.
Very humble and spirited, Hakeem talks to BN about his upcoming feats, his deal with Etisalat, juggling family life with a successful acting career and what steps Nollywood should take to become even more formidable on the world scene.
Being quite the quintessential Nigerian International actor, what's your opinion on Nollywood?
What they have done is fantastic but I think it is time for us, the Nollywood model, to go on to the next stage and compete at an international level. What I mean by that is upping the skill, look and feel of Nollywood movies to become truly international. It's a way of us, as Africans, to tell our stories from our perspective and not how other people tell those stories. I think that's really important that we must start to delve into our history; delve into our heroes and villains and be able to put those up on the big screen; not just for the world to know, but also for us and for our children. We need those historical films. We need to go out there and make sure that our contribution to the world is recognized in an honest way, in a way that it was. We were not just slaves and Africans living in Africa with nothing. We had great empires and great people and I think through this medium of film, it's one way we can help spread that message, especially to our own kids.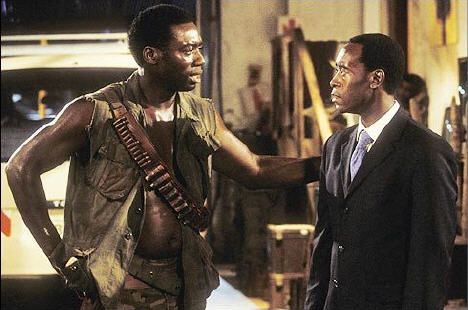 How did you get into acting?
I started when I was very young. I was in all my school plays and then, I went on to be part of the National Youth Theatre – an annual 6-week theatre workshop in the UK. A lot of kids would audition for it and only about a hundred would be selected to work in this theatrical environment. We would do everything from stage management to acting on stage. That's where my love for the industry and being an actor actually began.
Did you grow up in the UK?
Yes, I did. I was born in Lagos but for the most part, I was raised in England and then went on to spend a good few years in South Africa before coming to the United States.
What type of acting jobs were you doing before you got into Hollywood?
My acting career has been all over the place. I started off in the United Kingdom where I did mainly stage and theatre so I worked for the Royal Shakespeare Company, the Royal National Theatre, the Royal Court and all those big UK theatres. After that, I moved to South Africa and did a lot of stuff there on South African Television – commercials and various other things like that. Then, in the last few years, I moved to America. My career, in ways, has gone through three different countries so I've started all over again in each different country. It's been a journey.
You recently starred in the Award-winning "Last Flight To Abuja". Was that your first time of working back home? What made you start to work in Nigeria?
My first experience of working back home was on a film called "Inale". It was a musical directed by Jeta Amata, which was shot in Benue State. He said it would be great if I came to do some stuff out in Nigeria and see what it was like. That way, we could help push the industry to a different level.
How did you and Jeta Amata meet?
Jeta did a lot of travelling after his film "Amazing Grace" and I was living in South Africa at the time. I had a film that I had produced which was going to various film festivals and we bumped into each other along the road. He was one of the first Nigerians to move out of Nigeria, as it were, and start to investigate what it was like in terms of Nollywood and the international scene.
You play a main character in an upcoming new series, "Black Sails" from one of Hollywood's biggest producers, Michael Bay. Was it a role you had to audition for or were you handpicked?
Everybody auditioned for all the roles in 'Black Sails'. I was lucky enough to get the role and it's very exciting. They have already commissioned season two and season one hasn't even come out yet. It's all set around pirates in the seventh and eighteenth century. It's very raw and very earthy. For me, the interesting thing is bringing in a historical aspect. All the characters are based on historical figures; not to say that some are not fictional. I play a historical figure called 'Black Caesar', a really fascinating character. He was a chief in West Africa and was kidnapped by the slavers. After he was tricked onto the ship, he later became a pirate because the slave ship never got to America. It's a fascinating to see the different levels that we as Africans have in different areas of history. Not many people know that nearly forty percent of the pirates back then were of African origin because of the slavery. The only place escaped slaves could find sanctuary was to be pirates. If you see 'Pirates of the Caribbean' or things like that, they don't really appear.
Apart from "Black Sails", what are your other upcoming projects?
I'll be going back to do season two of "Black Sails" soon. "Half of a Yellow Sun" is also coming out soon. I'm just working on another movie called "Daylight's End" with Lance Henriksen.
Etisalat's new advert campaign features you in it. Is it just a one-time thing or were you signed on as a brand ambassador?
They asked me to come and do an endorsement deal for them so it'll be my first in Nigeria. It's just another avenue for me to see what it's like back home, to sort of help bring a more international sort of level to what's happening locally as well. You know, we're Nigerians, so it's important for us to be on the international scene. We're still ironing it out but as a brand ambassador, we'll be trying to improve the Etisalat brand and its awareness.
Do you have a house here in Nigeria, especially now that you have a lot of engagements in the country?
No, it's mainly hotels and running around when I'm in Nigeria. I do have a brother that is based here though. My mother is also in Nigeria but she spends some time in the UK as well. Even though I was born in Lagos, we're actually from Abeokuta.
As much as you have a lot of different roles in Hollywood, you tend to be the go-to guy for the 'African man' stereotype. How do you feel about that?
The thing about Hollywood is that once they see you in one thing, they are not very innovative in terms of their ability to see you out of the box sometimes. So, it's up to you really to push outside the box. If you look at my work, it's an array of different characters but like you said, you tend to be the go-to guy for a certain type of thing for a while. "Black Sails" is a very different character so you'll see a very different side of me. It's not bad being a go-to guy because it means that you're working hard enough to get noticed.
Even though you've been acting since the eighties, you've only just gotten major recognition in the last decade; would you say you're reaching the peak of your career?
I think it's still reaching its peak, so to say. Having moved from one place to the other – England to South Africa, South Africa to the United States – the problem was that I'd have to start again and the industry, only now, is becoming global so you don't necessarily have to move. In the last few years, my career is just beginning to take the path that I would like it to so it's just the beginning for me, even though I've done all this work. Until I'm in the place where I can do the pieces that I'm really passionate about, I'll keep working. Those pieces tend to be telling our stories as Africans. There's a whole array of stories that I believe that we should start to tell and I hope to help tell.
Apart from acting, you also do voiceover work for videogames, commercials and the likes. How did you get into that line of work?
It's a sort of spring off, really from people saying "you've got a nice voice" and then suddenly, people asking me to do voiceovers for commercials. I've done a lot of commercials for Nigeria. I was once the voice for MTN – "Everywhere You Go". I did that for a couple of years. Yes, I also do for videogames. I don't know if you know "Halo" and "Call of Duty" and things like that. It's a great thing to be able to do and it's a great acting thing and it's a lot of fun. Voiceovers are a very important thing for me. I love doing it.
With how much people say they love your voice, have you ever considered branching out into radio?
No. It's a different skill. I can do voiceover for radio, in fact, I've done lots of those but working on the radio as a disc jockey or as a voice, it's a very different skill. You have to understand and have the knowledge of music and entertainers and all that sort of thing. And, in that area, my knowledge is kind of limited.
I'm sure you get a lot of attention from the ladies for your voice. How about relationships?
I'm nicely tied down actually. I'm married and I've got three little girls – Aisha, Shada and Jadesola.
Is your wife in the industry as well?
No, she's not. She's a blessing. She works in the hotel industry.
How do you two balance it out with you having to travel for work all the time?
That's a very good question. I mean, it's hard but, you know, one has to go where the work is so we make it work. When I'm at home, I try to spend as much time with the kids as I can so that sort of balances it out. I take up a lot of the slack when I'm not away.
Are any of your children interested in your line of work?
Maybe the middle one is a little bit but, you know, it's not something I encourage as such because it's a very difficult industry to be a part of. On the whole, people think that actors are millionaires but most of them aren't so it's very difficult. It's difficult in terms of the way one works. You're constantly in search for work and sometimes, you're working not working for a few months here and there. So, if had the choice, I wouldn't let them come into the industry to become actors but it's up to them in the end. If they are passionate about it, I'd be there to support them.
Tell us a little bit about your wife.
Her name is Bronwyn. She's from South Africa. Two of my kids were born there.
With your rise to fame over the past few years, how have you managed to keep your personal life out of the media?
I'm a family man and I think that is quite boring to the media. They like to see running around and chasing girls. That's when it goes into the tabloids and the papers. I'm a family man so it's like 'what more do they want to know?'
Other than acting and voiceovers, have you explored other areas in the movie industry?
I have actually. I produced a film called "Man On Ground" which was filmed by Akin Omotoso, directed out of South Africa. Producing is something I've done but directing is something I want to try my hands on. That's where I really want to go so watch this space.
A lot of people want to see change in Nollywood but very few ever mention the means of which the change should come. What do you suggest Nollywood needs to do?
I applaud those innovators and initiators of the Nollywood model. I think the new generation of Nollywood should try to think outside the box and try to improve so that these films would reach international standards of storytelling and its visual aspects.
It's all well and good you becoming a Director of Photography or an Actor but if you have no skill or you haven't studied, you're never going to improve the skill base. There are a lot of schools out there for people to go to study. I think it's important for there to be schools in Nigeria for people to study the art of film making. It's a huge industry and it's capable of employing and creating many jobs. It's capable of putting a lot of money back into the infrastructure of the country. These are all very relevant things. We have mass employment in the country but we have an industry that is the third biggest in the world. If we could see studios being built where people start to come into Nigeria to film, it would help. Film employs so many people and then the people who come into the country would spend so much money and not just on the film. For example, I come into Nigeria to film, I'm going to rent and probably buy equipment, buy clothes, go to the restaurant and so on. So, the knock-on effect of the industry is potentially huge.
Having said that, it's a really big task because of the structure of somewhere like Nigeria but it's not impossible. South Africans understood this and now they are seeing a lot of people coming into their country to film and it's helping their government with so many things. It's a very big and important industry that we shouldn't just disregard.
Piracy is our biggest problem. If the film makers were getting most, if not all, of their money back, people would be able to invest more in the movies.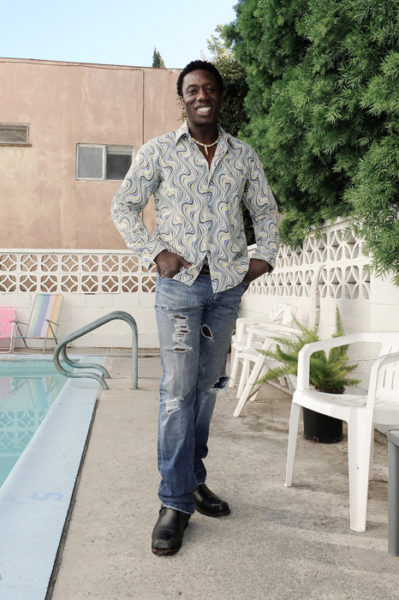 Do you have any advice for people who want to get into the movie industry?
Work really hard at it and never give it up. If you're really passionate about this kind of stuff – being an actor, producer or director, the main thing is to really concentrate and work as hard as you can. It's a real skill. It's an art form and it's not just about running in and trying to be famous. It's a way of giving back to people. I believe if you work hard at honing your skill base, it will get you far.
It was great chatting with Hakeem and from BellaNaija, we wish him all the best in his future endeavours.
Black Sails