TY BELLO – BABIES ARE THE BOSS! I WOULD CHOOSE TO PHOTOGRAPH THEM OVER THE QUEEN OF ENGLAND
by
January born Toyin Sokefun-Bello also known as TY Bello, is a Nigerian singer, songwriter, photographer, philanthropist and mother to the most amazing celebrity twin babies in Nigeria. Oh! Wait… You haven't seen them? You certainly must be from another planet.
Here is Christian and Christopher Bello…
Prior to pursuing a solo career, TY Bello was a member of the defunct gospel band Kush (Kinetically Ushering Salvation into Hearts and Homes), which gained popularity in the early 2000s with the single "Let's Live Together." TY Bello is also a member of the Nigerian photography collective, Depth of Field.
TY Bello is an indigene of Ogun state and it is safe to say that going by all she has done and is doing, TY Bello is one of the multi-talented artistes we have in Nigeria. She has a BSc in Economics from the University of First Choice; University of Lagos, she's had a short spell in journalism but is currently a singer, songwriter and photographer.
Her Music.
She is best known for her singles Greenland, Ekundayo, and Funmise.
In 2008, TY Bello released her debut studio album Greenland, which was produced by Mosa Adegboye. The album earned her a Nigeria Music Award as well as a Sound City Award. TY Bello describes the album as a journey of her everyday life. The music of Greenland embodies the themes of love, family and nation. The album's title track is an inspirational song written to motivate Nigerians to liberate themselves from a place of despair to a place of hope.
In 2011, TY Bello worked with producer Mosa and recorded her second album in a few months. On 19 February 2011, TY Bello released her second album "The Future" as the lead single from the album of the same name. The song urges Nigerian youth to be the change they seek. The music video for the song, directed by Kemi Adetiba, was released on 3 April 2011; it features cameo appearances from Tara Fela-Durotoye, Sound Sultan, Chude Jideonwo and Banky W.
Ore Fakorede gave the song a rating of 7 out of 10 stars, adding that its "soft tribal drums, synths and a piano provide a vivid backdrop for TY to contrast her unmistakable voice against, and this she does brilliantly, bringing the poignancy in the song's lyrics to life." Dapo Osewa of Sahara Reporters described the video as "a narrative in itself that dares to capture the varying and boundless composition of emotion that is the face of the Nigerian."
Makeup brand; House of Tara, launched The Jubilee Collection – a limited edition line of makeup, inspired by TY Bello's "The Future" single.
In December 2013, TY Bello released her single "Yahweh" featuring Wale Adenuga. The song features additional vocals from Nwando Okeke and Mosa.
On the 10th of October 2014, TY Bello released her third studio album, The Morning Songbook, for free digital download via SoundCloud. It was released without any promotion, and comprises 10 tracks including Yahweh, Thirsty and Jesu Jesu. The album features collaborations with M Sugh and Fela Durotoye. Udochukwu Ikwuagwu gave the album a rating of 7 out of 10, while stating that it is "a well composed album though the themes seem (-ed) 'all-familiar.' TY Bello and Mosa deserve credit for the superb songwriting and production employed on this. At times, the vocal performance was bolstered by emotions rather than actual dexterity but the ease deployed by the back-up choristers made this ignorable. This project is one worth every dime even though it was given free; this project is one that will endure for a long while," he said.
The Long Wait…
TY Bello is married to Mr Kashetu Bello. The couple was blessed with twin boys named Christian and Christopher, in October, 2014. But, this didn't happen until after 9 years of marriage.

Talking about how she handled the pressure of not having a child for 9 years she said: "Oh you can't even begin to imagine. Society and even your personal fears can pressure you before a desire manifests. In our society, as with most, once you hit a four year mark after your wedding, everyone around you starts to blare their alarm. Nine years? Now that was deafening. Every time I prayed, I knew everything was going to be fine and my life was in the course set for me. The pressure gets more difficult when you are trying and it isn't happening.
"It was important I turn a deaf ear sometimes. It was important that I didn't feed my doubts. Someone once said to me after the babies came, "You can't call your experience waiting, you were living your life to the full before their arrival". I explained that was exactly my waiting experience. I always say that Christ came to die that we may have life and have life abundantly and that I want to live life to the maximum. If you allow yourself to sustain a state of misery because you don't have something, whether marriage, children or a dream career, then you can't have a full life. It is in the place of living outside of the tyranny of the desire that it comes to you in its full glory. I knew for sure I was born to be a great mum. I just wasn't sure on how it would play out but I knew it would happen nonetheless."
Her Journey To Pregnancy.
"My journey to pregnancy was a very intense one. I had just been through the toughest nine years of trying to get pregnant, being confident that it would be a breeze since I had always known that I would make a great mother. It was quite humbling when it didn't happen as I had envisioned it. It was grueling actually," she said.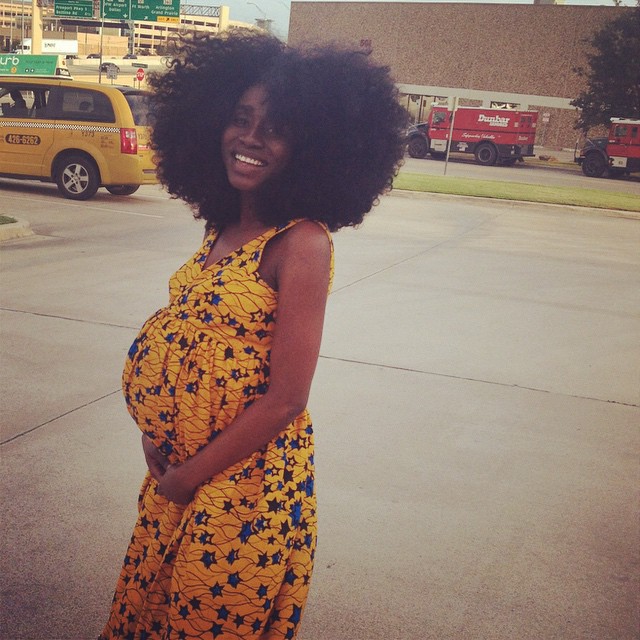 "At first we didn't know I was carrying twins. When I was going for my test, I didn't feel pregnant. Before I went, I heard in my spirit, 'Wear something nice'. I questioned the voice and wondered if it was nice to dress so nicely and get disappointed, setting myself for a heartbreak. In the end, I obeyed. I decided in my mind that whether I was pregnant or not, I was not going to stop believing. My doctor was very dramatic about the announcement too. She screamed so much we couldn't even decipher her words. I had a delayed reaction as her words wouldn't sink in. It was overwhelming, We were truly happy and couldn't stop crying.
I remember two people, Pastors Obi Pax Harry and Angela Ashong telling me as a matter of fact that I was going to have twins. It happened to the detail. My friends know how I have always made it a joke about having twin boys to make up for lost time. I wanted boys because I joked that I was an eternal fourteen year old lanky boy myself and so we would all get along. I can't believe God was listening. It was few months before we could confirm that we were having boys."
TY Bello Photography.
Aside from music, TY Bello was the official photographer to President Goodluck Ebele Jonathan; she also does work for Thisday fashion magazine.
"Art is about collecting experiences and expressing them. For me music and photography are similar art forms. I collect experiences, stir them in myself and express it in my own language. Just like my photography, music is my language." – TY Bello about her photography and music.
About photographing babies she had this to say: "I love photographing babies. Yet nothing terrifies me more. Tell me I'm photographing the queen of England tomorrow and I'll be fine. I'll go to sleep, knowing that 'Hey, she's human! As long as that remains true, I'll break-in. Break-through or Break-her-down… Somehow… I'm always up for a challenge… Especially when I'm told someone is 'difficult.'
"I've been blessed to photograph countless world leaders, international celebrities and people I've only dreamt I'll get a glimpse of and I always did just fine.
"But tell me I'm shooting a baby or child aged 3 months to 2 years and I'm immediately humbled. Torture me by letting me know 2 weeks in advance and I won't be able to stop thinking about it. With babies and toddlers, I'm not doing all that fancy breaking-them-down or nothing! They're are THE BOSS. Breaking YOU down. You learn to stoop and see where they'll take you.., but ooooh …nothing can be more rewarding than when they gift you with their presence. To curb my 'respect' for these folks. I throw myself in the deep end by creatively photographing a crèche and nursery every year. Nothing cures you faster than trying to create magic with not one but one hundred screaming babies and toddlers. Nothing will make you question your reason for existing yet give you greater meaning for your being alive…the greater meaning part starts only after you gather up courage to look at your contact sheets on your screen about two weeks after your 'beautifully' life altering experience. Babies rule supreme. #tybello photography #photo stories #babies #irebo."
She Is Also A Philanthropist.
Considering her love for the most vulnerable creatures (babies), it is expected that TY Bello would be involved in some form of philanthropic activity.
TY Bello organizes an annual photography exhibition to raise funds for orphans in Nigeria. She is also the director of Link-a-child; an NGO dedicated to proliferating information on orphanages in Nigeria and seeking sponsorship on their behalf. In July 2011, TY Bello was honored by the non-profit Communication For Change organization in a five-part documentary film series titled RedHot.
She has also raised her voice against social vices such as rape. In October 2011, TY Bello was one of the celebrities featured in an eight minute anti-rape video compiled by the Nigerian Ministry of Youth Development. The anti-rape video shed light on the victim of a gang rape at Abia State University in September 2011.
Also, her Ekundayo video won the best female video in 2009.